About This Site
Ally Addiction
Awards
Episodes
Fan Fiction
Humor
In Print
Stress Reduction
Usenet
Ally McBeal
Ally McBeal UK
Calista Flockhart
E-Mail Me
Sign Guestbook
View Guestbook


In Print
Note: I am not actively looking for magazine covers. I will only post something if I happen to see it. If you find that I am missing something, please e-mail me so I can let others know about it. Thanks!
May 26, 2000
In Style
June 2000
Get to know cover subject Calista Flockhart as she tells about how she relaxes behind the scenes. Find out how the power of pose changed the lives of yoga fanatics Courtney Thorne-Smith
May 15, 2000
TV Guide
May 20, 2000
US weekly
Date unknown (Around May 15, 2000)
Jane Krakowski and her mom
April 1, 2000
"W Magazine"
Issue Unknown
Calista Flockhart
April 1, 2000
"In Style"
April 2000
Jane Krakowski
January 23, 2000
"Walking Magazine"
Jan. and Feb. 2000
Walking Starts a Jane Reaction — Jane Krakowski, a star on "Ally McBeal," can't stand treadmills and would never dream of joining a gym. This talented actress gets her workouts by slinging her knapsack on and hoofing it at a good pace. Walking catches up with Krakowski in a diner and learns what else this fiery blonde prefers. Also in this issue: Stop snacking. (1-2/00)
"TV Guide" Canada
January 22, 2000
"There's a little of Elaine in everybody, at least in our fantasies," says Jane Krakowski of her snoopy sex-obsessed character Elaine on Ally McBeal. "I think we all secretly want to be her. She gets away with everything"
Everybody loves her as Ally McBeal's nemesis, but there's more to Jane Krakowski than just the ever-meddling Elaine.
December 12, 1999
"TV Guide"
December 18, 1999
Same-sex smooches! Car wash encounters! Ally McBeal is on a wild streak, and our critic Matt Roush explains why.
June 7, 1999
"Los Angeles Magazine"
June 1999
CALISTA BITES BACK
Ally McBeal's lissome, enigmatic Calista Flockhart has handled instant fame--and some nasty tabloid stories--as coolly as she handles her starring role in the upcoming A Midsummer Night's Dream. She tells us about it over dinner. That's right--dinner by Steve Pond
May 3, 1999
"Shape"
June, 1999
Portia de Rossi in Shape! Shape Buffs Up Your Bikini Zone — Scared to go bikini shopping? Shape primes you for hitting the beach, covering everything from toning exercises and four-week workout plans to flattering swimsuit styles and weight-loss tips. Most women start starving themselves as soon as they see the first spring blossoms. But you'll be happy to know that indulgence, not deprivation, may be the real solution to achieving a beach-ready bod. Also in this issue: How to stay healthy and safe during the summer months. (5/99)
April 21, 1999
With a TV hit, a big movie and offers galore, Calista Flockhart can laugh off the tabloid tales. Plus: In Boston we ask, "Is Ally McBeal for real?" [Visit TV Guide's website]
April 7, 1999
In-Style
May 1999
Calista Flockhart's candid conversation about her weight and rumors about affairs.
October 30, 1998
People
November 9, 1998
People Gets the Skinny on Calista
Too fat, too thin: America's obsession with weight is rampant. In an exclusive interview People chats with Calista Flockhart about the anorexia rumors that have dogged her for months. The "Ally McBeal" star denies that she has an eating disorder and shares her anger, hurt, and disgust over the matter. Flockhart explains that she eats whatever she wants, whenever she wants, despite speculation to the contrary after a recent Emmy appearance. Also in this issue: Punky Brewster gets hitched in L.A.
October 10, 1998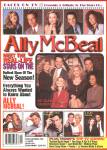 Faces on TV
November 1998 issue
A Tribute to the Stars of Ally McBeal
$4.99 U.S.A. $5.99 Canada £2.95 U.K.
Contains 59 pages of pictures and text, including biographies, show information, dancing baby info, behind the scenes, lots of pictures (some not on the internet!) and lots more.
September 26, 1998
TV Guide
September 26, 1998 issue
The women of Ally McBeal
The women of Ally McBeal — Calista Flockhart, Lisa Nicole Carson and Jane Krakowski — want everyone to stop taking their show so darn seriously. A Time magazine cover story blaming McBeal for the death of feminism comes under considerable fire from the group. "[T]his is a comedy about an exaggerated character and to compare her to Susan B. Anthony is outrageous," says Flockhart. "To say that our generation has no feminists, that all we have is Ally McBeal, is just crap.... Feminism does exist and I challenge those who say it doesn't."
September 25, 1998


Entertainment Weekly
September 25, 1998 issue
Ally McBeal & The Practice
TV producer David E. Kelley has a legal dream team — and it turns out a producer's dream as well. Entertainment Weekly briefs us on the sensational success of Kelley's two shows, "Ally McBeal," which stars Calista Flockhart, and Emmy-winning "The Practice," which features Dylan McDermott. The producer just took over a sprawling 22-acre studio to create his sometimes silly, sometimes serious, always steamy work and serves up talent, good looks, and charm to viewers.
1. Legal Notice: "Ally McBeal" TM and © (or copyright) Fox and its related companies. All rights reserved. Any reproduction, duplication, or distribution in any form is expressly prohibited.; and
2. Disclaimer: This web site, its operators, and any content contained on this site relating to "Ally McBeal" are not authorized by Fox.